John Ray Leary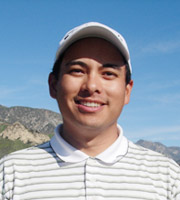 During my junior years I grew up working with Eddie Merrins.  Mr. Merrins has worked with countless PGA touring professionals and was also the head coach for the UCLA men's championship golf team.  Mr. Merrins gave me the basic understanding of the life long fundamentals needed to play the game of golf.
As my career progressed, I was blessed to have Chi Chi Rodriguez take me under his wing.  Chi Chi taught me lessons on how to play. During the last three years of his Champions Tour career, I was fortunate enough to be his caddy.  The lessons that I learned while being on the bag and inside the ropes were priceless.
Into my professional career is where I built my coaching team.  I was fortunate to have Dennis Sheehy oversee my short and long game.  Dennis has had the great pleasure of working with Stephen Ames, Ian Woosnam, Steve Ballesteros and Nick Faldo. In the 1980's and 90's, Dennis worked alongside famed coach David Leadbetter. Later he went on to open up golf academies around the world for Leadbetter.  The endless hours I spent with Dennis gave me a solid technical understanding of the golf swing.
On the mental side of the game, I sought the help of Alan Fine, coach to Players Champion Stephen Ames.  Alan is a major force on the European tour with his players accumulating wins year after year.  With sound advice through mental exercise, Alan and I have worked on maximizing one's ability to perform at the highest level while not having your best game. I look forward to having the privilege of working with all golfers from beginners to professionals.
To schedule a lesson or to purchase an Instruction Package, please contact John Ray Leary at 310.621.6388 or via email at JRPL43@yahoo.com.
Discounts and Special Offers:
ANGC "Bucket List" Driving Range Members can receive 20% off Instruction Packages from John Leary. Click here to view the "Bucket List" 30 day Driving Range Membership information.