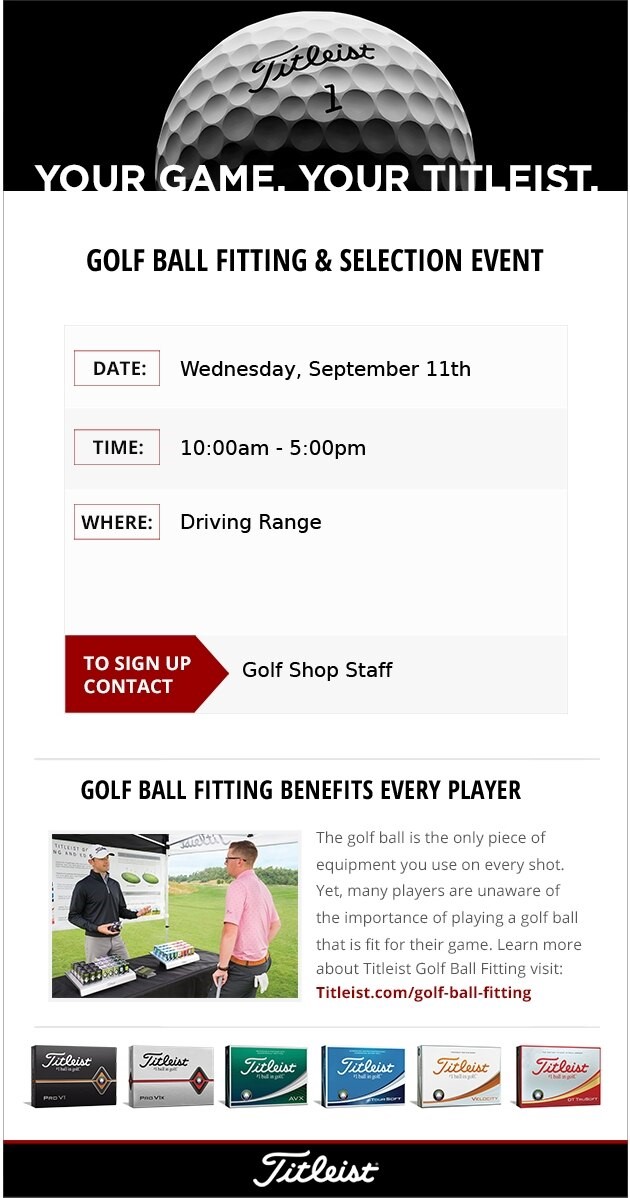 Dear Fellow Golf Enthusiast,
Angeles National Golf Club has the unique opportunity to host the Titleist Golf Ball Fitting Team on Wednesday, September 11th between 10:00 am and 5:00 pm
The team is offering two levels of complimentary ball fitting services:
First you have the opportunity to hit Pro V1 golf balls on a TrackMan launch monitor to quantify your launch conditions. The specially trained team will discuss how these variables impact your golf ball choice, and in your debriefing you will be presented (2) two-ball packs of your recommended Titleist golf balls.
Second is a comprehensive interview process involving the ball you currently play, why you make it your ball of choice, a discussion on Titleist golf ball performance, and the recommendation of products suited for your style of play.  The team encourages questions about your recommended Titleist golf ball models, and you will also receive (2) two-ball packs of your recommended Titleist golf balls.  No appointment is required for this service.
If you are interested in a Trackman Titleist Golf Ball Fitting please call the golf shop at (818)-951-8771 to schedule your fifteen-minute appointment. There are only 22 available times and these will fill up quickly.
We are certainly pleased to offer this service and encourage you to take full advantage of this opportunity.
Sincerely,
Your Golf Shop Staff